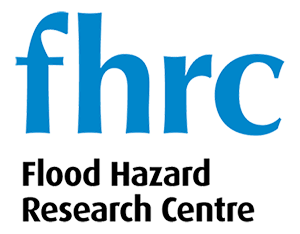 The Flood Hazard Research Centre (FHRC) is an interdisciplinary centre based at Middlesex University.
We specialise in the interaction between people and the environment, together with the analysis and appraisal of environmental policies. Our aim is to develop our understanding of the relations between people, water and the environment, in order to reduce the risks from natural hazards and improve policies for current and future generations. In particular, we are interested in the environmental and societal dimensions of natural hazards such as different factors of change, vulnerability reduction and capacity building, governance and decision making.
FHRC staff  work across a range of disciplines including geography, economics, sociology, social anthropology, and environmental science.  We have a PhD and Masters level training programme and run professional training courses for Environment Agency, local authority and consultancy staff.
We have many years experience of working with government bodies in the UK and overseas.  In the last four decades, FHRC has produced five Manuals bringing together information on the impacts of flooding and coastal erosion and incorporating data on flood damages. Our Manuals are the industry standard in England and Wales for use in economic appraisal.  Find out more about the Multi-Coloured Manual and Handbook.
Our reputation and expertise is informed by an up-to-date view of the state of the art in the relevant research areas. This is reflected by our portfolio of past and current research projects.
You can follow us on twitter @fhrc_mdx